Who are we?
Engage Health Group is a Brighton & Hove based healthcare brokerage and employee benefits consultancy, offering expert, impartial advice to both individual and business clients. With over 30 years combined experience assisting clients of all shapes and sizes across the UK and internationally, we are perfectly placed to fully understand your needs and work with you to deliver the best available solutions. We are committed to offering the very highest standards of expertise and service to our customers and we are an active member of the Association of Medical Insurance Intermediaries (AMII).
At Engage Health Group, creating Shared Value for our clients, partners and the communities within which we work is a fundamental part of why we do what we do.
To learn more, please go to our mission statement.
What we do?
Whether you are an individual retail customer or the administrator of a company plan, we can help you.
Our goal is to offer a highly personalised broking and advice service to our customers, giving you the peace of mind that your chosen policy fits your needs perfectly and that you are supported, not just at the policy inception, but throughout the life of your plan.
With access to all insurance providers within the market and with no allegiance to any, we can offer you truly independent advice and still secure the best possible premiums.  Furthermore, we will act as your continued advocate to the insurer and are well positioned to help at the point of claim, leaving you to focus on getting better, or helping somebody else to.
Finally, our service and advice is completely FREE to our customers.
We are remunerated by our insurer partners and providers, meaning that you can benefit from our expert advice, a full market review and enjoy peace of mind at no cost to yourself.
At Engage Health Group, creating Shared Value for our clients, partners and the communities within which we work is a fundamental part of why we do what we do.
To learn more, please go to our mission statement
We aim to create Shared Value in two key areas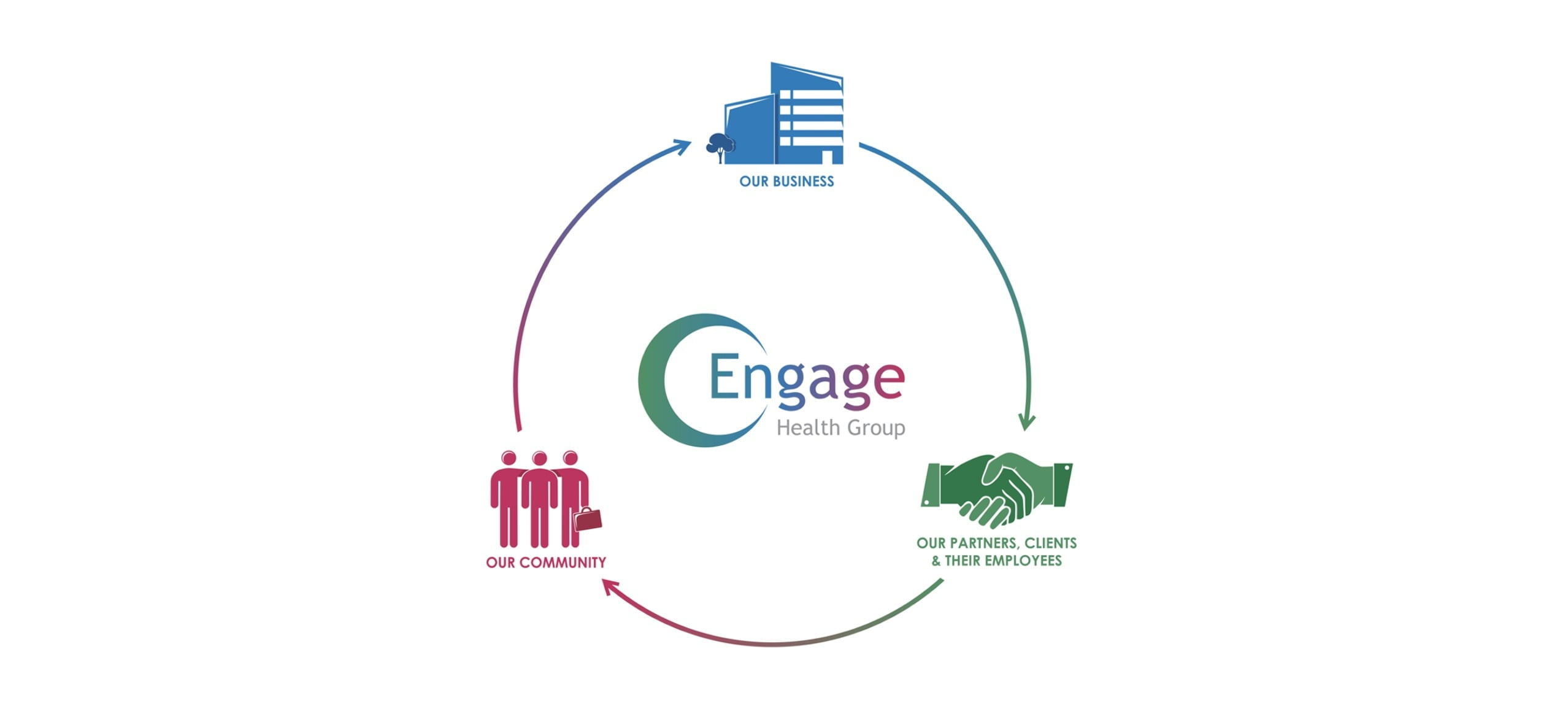 Firstly by providing an excellent level of consultancy for both the Individuals and businesses that we work with, adding tangible value to our clients and their employees.
The marketplace has typically reserved the best level of consultancy for large companies with over 250 employees, however being a strong advocate for workplace health, we believe it's vital that employers of all sizes get the best advice in supporting the health of their workforce.
We feel that delivering expert consultancy on workplace health, both physical and mental, which is often not typically addressed for many businesses, is critical. This is particularly true for staff at lower pay grades where engagement can be low and staff turnover high.
Helping to address this can deliver a much wider positive social, and commercial impact if pursued by employers of all sizes.
Secondly, we want to be an active part of the local communities we work in, making a positive social impact by utilising the expertise the business holds.
We will pursue this in particular by supporting individuals and organisations that do important work to truly help hold together the fabrics of society at a local level, but which do not receive significant levels of funding.
To this end, we have formed the Engage Charity Health Fund, which you can read more about on our Charity page.
OUR PEOPLE
The team at Engage Health Group have over 30 years' combined experience within the health and employee benefits sectors, having worked previously with large UK and International insurers, as well as intermediaries.
A rich pedigree in managing a range of client types from individual customers to large corporate businesses means that Engage Health Group are well positioned to service a broad spectrum of customers with very different needs.
Qualifications
In an regulated market, but where any relevant insurance qualifications are optional, Engage Health Group sets itself apart by ensuring every employee has completed adequate professional qualifications (via The Chartered Insurance Institute) to assist our customers in the most knowledgeable way possible.
Many advisors who work independently or who represent one specific insurer do not carry these qualifications, working more as a sales channel rather than a specialist consultancy.  
At Engage Health Group, we assist our clients to invest in their own workforce to drive a more engaged, loyal and professional employee population.  We believe that our commitment to our own staff should mirror that of our clients.
Give us the opportunity to impress you
Get in touch with us today, whatever your query so we can help to find the best solution for your requirements
Engage Healthcare
A tailored approach to your individual health insurance needs
Engage Employee Benefits
A healthy and protected workforce is good for business
Engage International
Health insurance and exclusive services for expatriates and global employees