It's been a couple of weeks since the beginning of our Fitness February competition in the Engage office and we can confidently say that it's been well received by our teams.
The YuLife step-count challenge was first introduced by Hooray Health & Protection Director Charlie Cousins. Charlie set the scene for the competition, introducing his 'winning' team (maybe a tad prematurely!) and laid down the ground rules of what we were all doing for the next few weeks.
But this month has indeed been a busy one. So, let's have a recap of what Fitness February is all about and how Engage got involved.
What does Fitness February mean in the Engage office?
We split our office into three teams – Hooray, Engage UK and Engage International – all competing for the greatest number of average step-counts. Teaming up with YuLife, we have been keeping a leader board, recording our steps over the course of February.
YuLife is a life insurance company that focuses on inspiring employees to lead healthy and fulfilled lives by making simple lifestyle changes. This is supported by the YuLife App which rewards staff for their efforts with vouchers, discounts, gifted experiences, and more.
To further incentivise the teams, the directors at both Hooray and Engage have promised an extra reward for the winning group. To up the competition further, they have also offered a special prize for the individual employee with the most steps overall! Who doesn't love a bit of healthy competition?
At Engage, we have been using the YuLife App, amongst other YuLife benefits, since autumn 2021, meaning our teams were already fully acquainted with the app ahead of the competition. This made us confident in our bid to outstep the team Hooray. We had already begun the process of incorporating small everyday changes into our personal and work lives, ranging from mindfulness practices, such as meditation, to challenging each other to walks.
All in all, we were more than ready to get stuck into the Fitness February challenge!
Who are the Engage teams?
We already know about the Hooray team and their desire to win (you can check the details out here!). But what about the rest of us in the office? Both Engage UK and Engage International have four members on each team, giving the groups equal footing.
Engage UK
This team consists of Nick, Boxy, Molly, and me! How are we levelling up so far? What have we been doing to make a difference towards winning?
We have been shaping up into a strong team! Nick has been playing football more, even strapping his phone to himself whilst playing to build up those steps. I have been walking to and from work on the three days I'm in the office (this being a 50-minute walk there and back), really boosting the team's overall step count.
Boxy and Molly have also proven to be strong contenders, committing to steadily increasing their steps every day of this month.
Engage International
On the International team, we have Ian, Judit, Jo, and Dave. Also proving to be a formidable force, these guys are really starting to go all out!
Dave has taken the competition by storm, quickly rising up the leader board by making frequent visits to the gym after work and spending his lunches on hour-long walks around the area.
For all their talk, the Hooray lot really do need to be watching their backs! Thinking you can take a day off hunkering down in your living room provides the perfect opportunity for the Engage teams to stride into that top spot.
The Engage values: what we're bringing to the competition
As a health insurance broker, the issue of wellbeing holds great importance – both within our teams and for our clients. This has been brought to the fore during this step-count challenge. Light-hearted joking and friendly competition have been combined with support and encouragement – even for the smallest contributions!
Fitness February has brought our team even closer together and boosted each other's morale and productivity. But we have also taken improvement seriously.
Improving our physical and mental health by getting outside and moving about has been a huge motivation for a lot of our team members, who are each enjoying seeing changes in themselves.
Here's what we have been doing:
1-hour walks at lunch
Walking to and from work
1-2-1's either walking to the pub for a lunch or taking a stroll around the local area
Playing football
Going to the gym
Doing exercise classes
Moving around the office when taking calls
Walking to the shops, post office etc instead of driving
Getting out and about at the weekends – e.g., exploring new parts of the East Sussex coastline (taking tips from each other about where to go/which walks are great in this area). This not only boosts our step-counts but also improves our relationships with one another, as we learn about interests and personal lives.
Pushing ourselves and one another to take those small steps in our everyday lives can often seem easier said than done. Having a focus on team building has demonstrated how each of us can provide that extra bit of support to help someone make a change.
How is the competition shaping up so far?
As outlined in Charlie's introduction earlier this month, all teams were establishing strategies to ensure our steps would be increasing over February.
We were all pleasantly surprised at how well these strategies were received by almost everyone in the office. Yes, that is almost everyone. Where most of the office has been making the change, there are a few staff that are still falling behind! Alfie has shockingly let the side down so far – but luckily, his steps go towards the Hooray team, working in our favour.
Getting out at lunch is helping everyone massively, and, with the days getting longer, walking home from work is becoming more appealing for a lot of people in the office.
However, before revealing who is currently leading the way at the top of the competition, we thought it was important to mention some difficulties that we've encountered so far.
Events this month have often felt out of our control, meaning a lot of us in the office struggled with maintaining a high step count every day and haven't been able to stay active as much as we would have liked. These circumstances include:
The continuing presence of Covid, and having to isolate to protect others in the office
General illnesses e.g., colds, doctor appointments, sometimes even the odd hangover (although we can fairly say that the last one is self-inflicted)
Storm Eunice hitting last weekend
Just two months into 2022 and it is already testing everyone's physical and mental wellbeing. Being a part of Fitness February has meant we have been able to focus on something different, teaching us that it's okay to ease up from time to time.
We are not machines! It is important to understand when to take a step back, when to look after yourself in different ways, and be able to recognise exactly what it is you need at that certain moment.
The current state of the leader board:
But let's get into what you want to know – who is currently winning?
Hooray were originally soaring ahead with Esme and Charlie sitting comfortably for most of the competition. However, there has been a surprising turn of events.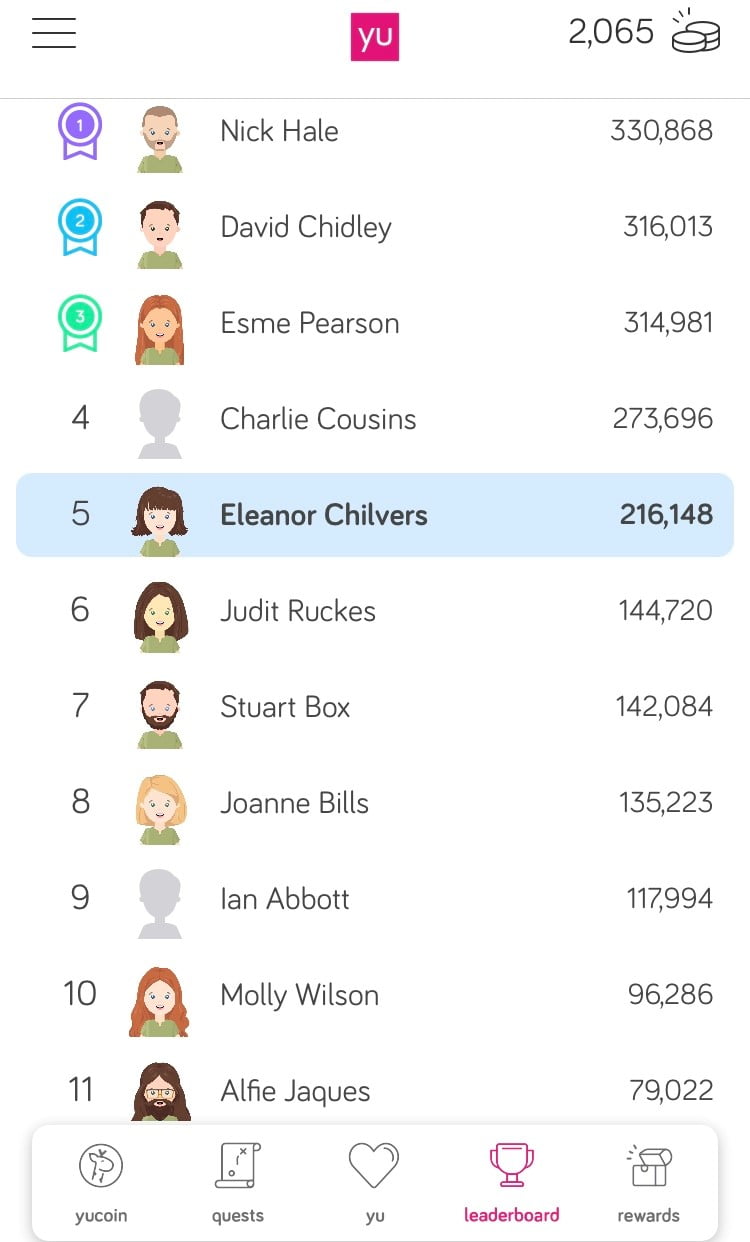 Nick has quietly taken the lead, closely followed by Esme, and then with Dave – meaning the Engage UK team are strong contenders to lead this competition across the finish line! However, everything is still to play for – we have a feeling this week is going to be filled with lots of surprises.
Although Charlie began with a confident effort, things appear to have taken a turn for the worse for the Hooray Director. Could Engage UK be taking home the winnings?
What else to expect from February
Alfie aside, we have all been impressed at how much everyone has really gotten into this Fitness February challenge and how much of a positive impact it has had on our team building here in the office. The fact each team member has improved over the course of the month just goes to show how these healthy fitness trends can lead to positive and optimistic attitudes.
For the final week of February, I'm sure there will still be many more challenges that we as an office will have to face – this is 2022 after all, and the world does seem to continue to throw challenge after challenge at all of us.
That is why taking part in these team building activities and events can be so important to the overall wellbeing of employees. The workplace is a great place for people to come together, feel connected, and have a sense of community. We believe the step challenge will provide benefits way beyond February!
Let us know what you and your teams are doing for Fitness February, and any ideas for more competitions that we could take part in for the rest of the year.
Contact us at Engage Health Group Ltd for FREE no-obligation advice and support, or call our team of experts on +44 (0)1273 974419.